Mon, 01 May 2017
Perl 6 By Example: Now "Perl 6 Fundamentals"
Permanent link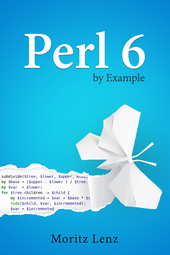 This blog post is part of my ongoing project to write a book about Perl 6.
If you're interested, either in this book project or any other Perl 6 book news, please sign up for the mailing list at the bottom of the article, or here. It will be low volume (less than an email per month, on average).
---
After some silence during the past few weeks, I can finally share some exciting news about the book project. Apress has agreed to publish the book, both as print and electronic book.
The title is Perl 6 Fundamentals, with A Primer with Examples, Projects, and Case Studies as subtitle. The editorial process is happening right now. I've received some great feedback on my initial manuscript, so there's a lot to do for me.
Stay tuned for more updates!